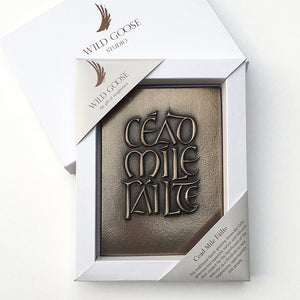 Wild Goose Studio Céad Míle Fáilte Bronze Plaque
The traditional Gaelic greeting which means 100,000 welcomes. The Irish respect the significance of the welcome as a threshold or rite of passage. Among Celts, there is a wide recognition of the importance of chance meetings and random events with a renowned openness to new experiences, opportunities and people. This is characterised by the expansive and generous nature of the phrase 'céad míle fáilte'.
Dimensions: 8 x 5 inches (20 x 13cm)
This piece comes in our presentation gift box.
Made in Kinsale, Co Cork, Ireland