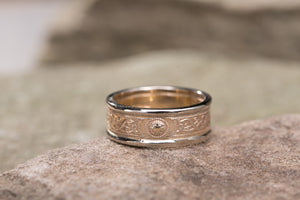 Celtic Warrior Shield Wide Ladies Wedding Band 10k Yellow Gold with 10K White Gold Rims
The Warrior Shield is inspired by the Ardagh Chalice – one of the oldest Celtic artifacts ever discovered in Europe.  The warrior shield symbols found on the Ardagh Chalice are illustrations of strength, loyalty, and protection.
Hallmarked in the Dublin Castle.