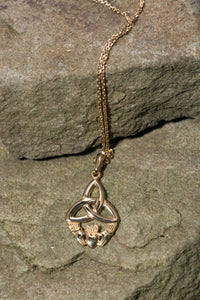 10K Trinity Knot & Claddagh Pendant
The story of the Trinity Knot in this gold piece is legendary, dating back centuries when monks would work tirelessly to illustrate the gospels. The result was the richly decorated knot-work which today is instantly recognizable as Irish, and tells a tale of enduring love.  A symbol of eternity... no beginning no end, add the Claddagh to this design and it says it all.  Friendship Loyalty Love and Eternity!!!  
This pendant comes with an 18 inch gold chain. 
Handmade in Ireland & hallmarked in Dublin Castle.