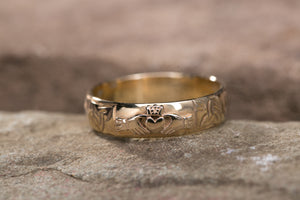 14K Claddagh Wedding Band
This Claddagh Wedding Band is designed beautifully with hand etched Celtic Knots surrounding the band and a raised 14k Gold Claddagh... the Celtic Knot is a symbol of eternity which makes this ring very symbolic.
Handmade in Ireland
Genuine Irish Hallmarked
Solid 14k Yellow Gold with a 14k white gold Claddagh 
Band Measures 1/4 Inch Wide
Hallmarked in the Dublin Castle.
I hold your heart in my hands and crown you with my loyalty.