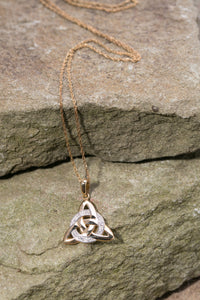 14K Trinity Knot Pendant with Circle of Diamonds
The story of the Trinity Knot in this gold piece is legendary, dating back centuries when monks would work tirelessly to illustrate the gospels. The result was the richly decorated knot-work which today is instantly recognisable as Irish, and tells a tale of enduring love. This stunning 14K trinity knot pendant has an intertwined circle... representing the Circle of Life...embellished with diamonds...this would make a perfect gift for any occasion. The pendant includes an 18 inch gold chain.
Handmade in Ireland and hallmarked in Dublin Castle.